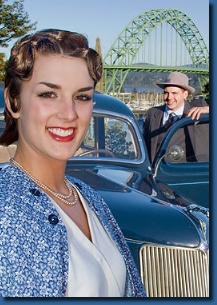 The Oregon Coast has a special history of art deco style due to the six major bridges built by Conde B. McCullough in the late 1930s. These bridges did more than open the door to modern transportation, they left a unique art deco legacy on the coast.

The Art Deco design of the bridges and the new highway-oriented culture affected new construction in places like Newport's City Center business district. This resulted in a distinct pocket of art deco style, one with its own unique history and culture.

As City Center prospered and new structures were built, many business owners had a desire to project the same modern, progressive image. They adopted the contemporary style of the late 30s, what we now call the 'steamline moderne' phase of Art Deco. Some structures have survived, many more have changed or are hidden by late century 'upgrades.'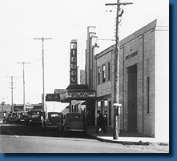 Since 2006, the non profit City Center Newport Association has provided education and design assistance toward the preservation and revival of Newport's unique art deco heritage. To date, CCNA has donated over $50,000 worth of in-kind design services within the district. Most have yet to be implemented. The three profiled here are examples of the vision for a revitalized Art Deco hertiage district.
Originally built in 1925, the "old" City Hall had been vacant for five years when the Pig 'N Pancake restaurant began major renovation of the interior in 2007.
As part of the ongoing effort to revitalize the Deco District, CCNA donated art deco consulting, design ideas, and tone on tone paint schemes for the building's exterior. Because the budget did not allow for replacement of the existing 1980's coating of synthetic stucco, changes in the color and/or design addition options were limited.
A design featuring a whimsical deco variation of the company's logo was also donated and added as a mural on both sides of the building. The building now helps to form an epicenter of revived art deco style structures at Alder St. and Coast Highway 101.