The inspiration for Newport's Deco District is the Yaquina Bay Bridge. When traffic first crossed the bay on Labor Day 1936, it opened door to the modern highway age and changed Newport forever.

The bridge in Newport was the northernmost of six major bridges built in the art deco style by Oregon State Engineer Conde B. McCullough.

The Rogue River bridge in Gold Beach was completed in 1932. Five bridges were built in 1935-36 under FDR's 'New Deal' program to put Americans back to work during the depression. Working double shifts, McCullough and his team designed these five bridges in less than six months.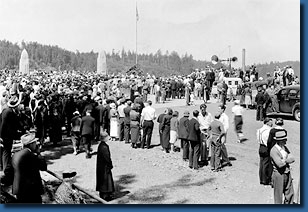 Construction on the New Deal bridges took place simultaneously. Hand tools, instead of machine tools, meant more men to do a job. Multiple shifts of 34 hours a week allowed more men to have a job. All five bridges were completed in less than two years.

McCullough included art deco streamline style elements into all six bridges. The deco touches were not always essential to the bridge's function, but neither were they pasted on decoration, applied only where they would be seen. Many design elements extend all the way to the waterline.
McCullough was a true renaissance man. He had the head of an engineer and the heart of an artist. He wanted the bridges to not only serve their purpose, but to inspire people and give them hope for the future.

And inspire them he did. New businesses sprang up along the highway to serve the needs of the new automobile age. Those who wanted their business to be perceived as modern and progressive built in the same art deco streamline style of the bridges. This resulted in places like City Center Newport, where a distinct pocket of art deco style developed and forms the framework for the history and culture of the central business district.